Country: Italia
Région: Liguria
Place: Savone
Town: Garlenda
The proximity of the Garlenda Golf Course to a tourist hotspot like Alassio is of great historical interest like Albenga as well as to other famous places on the French Riviera, helping to make Garlenda an ideal place for a pleasant stay combining golf with other entertainment.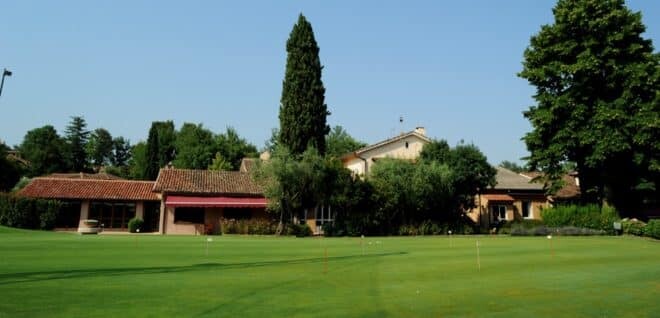 Facilities and services
Open all year except Wednesdays excluding public holidays during the period from October to April
Summer: 08h00 / 19h00
Winter: 08: 00 / 17:00
Large parking
Proshop / Boutique
Manual and electric trolleys
Electric carts
Club sets
Tennis / Pool
Massages / Beauty treatments
Fitness room
PRACTICE
Color synthetic targets
Covered carpets
Outside carpets
Putting green
Approach zone with bunkers
COURSE
18 holes
Par 72
6 085 m White Tees – slope 133
5 197 m Blue Tees – slope 130
HÔTEL – ACCOMMODATIONS
hôtel Foresteria Golf Club***
Tel. +39 0182 583813
Email: hotel@garlendagolf.it
Another hotels nearby
RESTAURANT
Large terrace
Traditional food
Tel: 39-0182.580012
CLUB HOUSE
Bar
Fast-food / Snack
Visitors lockers
Wifi
TEACHING – ACADEMY
3 teachers
Golf school
Individual and collective lessons
Initiations
Accompanied course
Stages video
EVENT
Ranking and club competitions
SUBSCRIPTION – GREEN FEES – FORMULAS
GF: from 60 € to 85 € depending the season
Individual couple subscription etc.
CONTACT INFORMATION
Garlenda Golf Club
Adresse: Via del Golf, 7 – P.tta Galleani,
17033 Garlenda (SV)
Tel: +39-0182.580012
Email: info@garlendagolf.it
ACCESS
From France: A10 – Autostrada dei Fiori then Albenga Villanova, then Villanova d'Albenga and to continue NSA14 Variante Aurelia Bis
Then on the right and to Viadotto Lerrone II. Continue to Casanova Lerrone, Garlenda Villanova d'Albenga Viadotto Lerrone II.
Exit Villanova d'Albenga, then to go VILLAFRANCA and follow Via del Golf
[gmap-embed id="15087″]
Golf Méditerranée Security Partner