Camille MUFFAT Golf Trophy Valberg. The 4th Trophy Camille MUFFAT was held on Friday, July 12, 2019 in Valberg on the golf course located at 1800 m from altitude.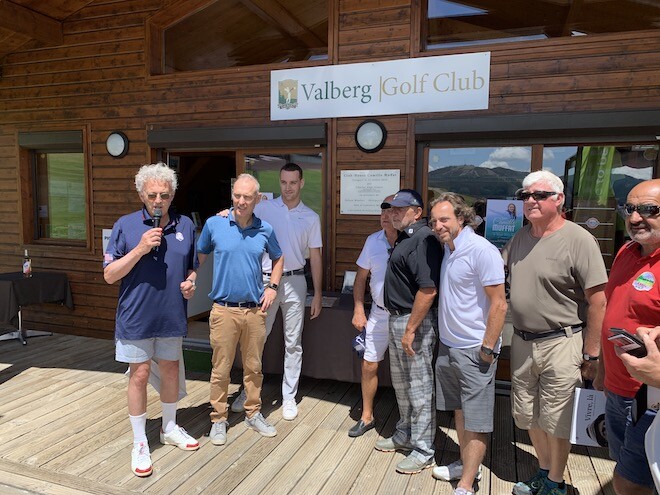 Nelson MONTFORT and Philippe CANDELORO, sponsors of the event, were present to share the moment of emotion with Guy and Quentin MUFFAT ( dad and brother of Camille). All the players joined this meditation and shared the unfeigned sadness of Guy MUFFAT and his son.
Read Pro am International de l'Agro -Food
In memory
Philippe CANDELORO was close to Camille MUFFAT because together in the TV show that had this tragic outcome. The latter stressed the strangeness of the situation to find themselves in an ambiguity of celebration and meditation. And that by luck the party gets back on top because life goes on.
Nelson MONTFORT , like all those present, also wanted to mark his attachment to the memory of Camille. A that this trophy was not a "coup de com" but a real meeting. you every year at the same time.
Palmares
The golf and the good table were the winners of the day and some good cards are out of the lot, including the two teams composed
– for one of Nelson MONTFORT and Philippe CANDELORO
– for the other Patrick DREVON and Dominique FANTINO who finished 1st with a gross score of +1 in the scramble formula for two.
Thank you Valberg
All the players wanted to thank the local authorities' willingness to continue in the renewal of the trophy, particularly under the leadership of Audrey ROATTA , Director of the Tourism Division of the Valberg ski resort and Christian GUEMY, President of the Valberg Sports Club.
Mr Alain NICOLETTA , deputy delegate to the Sports, represented Charles–Angel GINESY , President of the Departmental Council 06 and Deputy
Thanks to our Partners:
Hôtel BONALBA***** Alicante Espagne
Château Maïme
Golf Mediterranee security partner