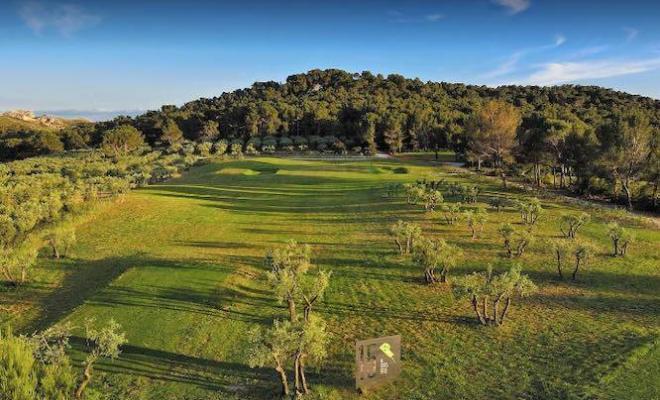 Golf Courses South France
MANVILLE GOLF COURSE
|
Country: France
Region: Provence Alpes Cote d'Azur
Place: South East Provence
Town: Baux de Provence – Bouches du Rhône – 13
The Domaine de Manville Golf Course, the first 18-hole eco-certified course in the Provence Alpes Côte d'Azur region.
Nestled in the hollow of the Alpilles, attentive to the local flora and fauna, this exceptional course has received the price of exemplarity from the French State.

Facilities and services
Private parking
Important Proshop
Trolley room
Rental of manual and electric trolleys
Electric cart rental
Club rental
A "bar" car for the delivery of sandwiches, coffees and drinks on the course.
Kid's Club
Driving range
20 positions
800 m2 grass area dedicated to putting green and chipping.
15 posts for 6 greens in the 23 to 92 m approach zone
Range ball
Course
18 Holes
Par 72
5,497 m Black Tees – Slope 139
5,365 m White Tees – Slope 129
5 102 m Yellow Tees – Slope 128
4,630 m Tees Bleus – Slope 123
4,326 m Red Tees – Slope 119
Hôtel – Spa
From the old sheepfold to the 5 * hotel

Accomodation
Family Villas and Suites
Restaurant – Bar
Open all year
Restaurant gastronomique "L'AUPIHO"
Bistrot "L'AUPIHO"
Bar du Domaine

Teaching – Academy
3 teachers
Individual and group lessons
Initiations
Internships
Golf school
Swing player, trackman and pressure plate
Club House
Large terrace at the foot of the pines
Sofas area on the terrace
Relaxation & Family Spaces
WIFI access
Visitors changing rooms
Seminar room
Event
Ranking and club competition
Corporate
Subscription – Green fee – Special offers
GF: from 65 to 103 € depending on the season
Individual or couples subscriptions
Day / Family stays
Day / Energy and Balance Stays
Etc.
online booking
Leasures
Active walking
bike excursion
Horse riding
Airplane – Maiden flight
Private cinema
Etc.
Contact information
DOMAINE DE MANVILLE
13520 Les Baux de Provence – France
Tél : + 33 (0)4 90 54 40 20
Email : contact@domainedemanville.fr
Web: https://www.domainedemanville.fr
Spa
Tél : +33 (0)4 90 54 86 29
Email : spa@domainedemanville.fr
Access
Highway A7: exit 24 Avignon sud then follow Saint Rémy de Provence
Airport: Avignon
Railway TGV: Avignon
Le partenaire sécurité de Golf Méditerranée