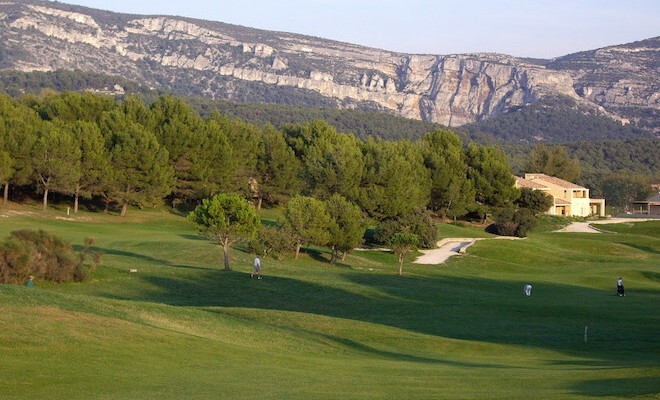 Course
GOLF PROVENCE COUNTRY CLUB
|
GOLF PROVENCE COUNTRY CLUB
Country: France
Region: South
Place: Provence
City: Saumane de Vaucluse
Golf Méditerranée has travelled to L'Isle sur la Sorgue and more precisely to Fontaine de Vaucluse to discover the golf Provence Country Club, an exceptional accommodation and golf complex near the city of the popes.
The team of Jean-François GIRARD, director of Golf, shows exemplary in terms of reception: smile and availability are present at all services both at the Proshop and in the restaurant.
The course
18 trous, Par 72, 6 099m
A dream course flanked between the mountains of Vaucluse, the Luberon and the plain.
The departure of the 1 is located opposite the mountain, from that of the 5 you see the immensity of the plain that runs to the Durance.
All along your golf course you will cross the Carpentras Canal. Then will take the junction paths that pass through the forest and its fresh haven bathed by a light wind that is very popular in times of great heat.
The Golf Provence Country Club is technically affordable at all levels of players.
If at a time not very far away the challenge of many golf architects was to propose the most difficult..
Jean Garaïalde did not fall in this cliché and proposed a drawing for golf enthusiasts whether they are professional or just Sunday.
There are no particular difficulties if not, as on any course, to think before playing. The tee tees are very well maintained.
For the Pars 4 and 5, the game does not require a thorough reflection on the ball receptions: no traps or other bad surprises.
The fairways are wide enough to forgive a gap when putting into play, even important, at the drive.
On this course you will swing in confidence.
Less than a day without (what can happen) you will be pleasantly surprised at the result of your card.
The undergrowths are very well maintained as well as the roughs, the loss of ball is almost non-existent, the bunkers do not present any particular difficulties.
The Greens are splendid with a straight-line outfit, no unreadable slope: a putting happiness.
Water points and other amenities have been installed in different areas of the route
The restaurant
The staff of the restaurant is, moreover, very aware of the needs and "requirements" of the golfers always in a hurry before going to play and hungry on the return of the course in the middle of the afternoon!
You will be able to sit inside or on the terrace according to your desires with a view of the 18 and the bodies of water.
The Golf Provence Country Club deserves a detour for everything we have just written: the reception of the staff, the quality of its restoration, the design and the maintenance of the course and its exceptional geographical location.
For more information, we invite you to visit the website:
www.provencecountryclub.fr
Provence Country Club
1141 Route de Fontaine-de-Vaucluse
84800 Saumane-de-Vaucluse
Phone: 33 (0) 4 90 20 20 65
Save
Save