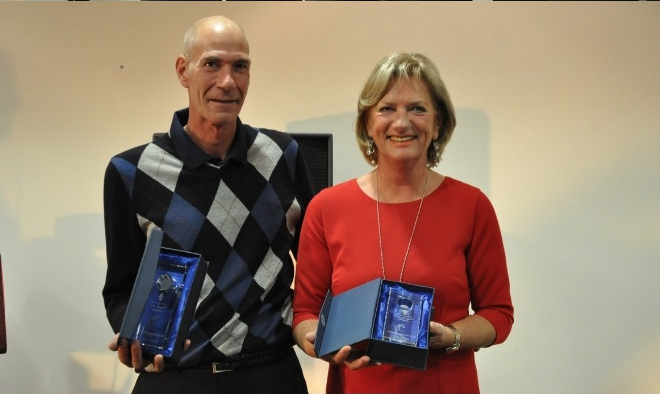 News
Final of the 2018 Championship at Domaines de Saint Endréol Golf
|
Final of the 2018 Championship at Domaines de Saint Endréol Golf
The final of the 2018 Championship at Domaines de Saint Endréol Golf et Spa Ressort showed rounds in high level match play.
After a Mid-September qualifying tournament, the quarter-finals featured the finest "blades" in the match between the first two men's series and the first women's series.
Who will succeed Herlan Pichan in the first series, Michel Lechat in the second series at Messieurs and Jocelyne Pichan at Les Dames?
Regarding the Gentlemen, the 2 favorites were again in the final and Marc Bourguignon, a regular in the finals, a total revenge (Score 2/1) after a fight of high caliber against Herlan Pichan Tenant of the title in 2017 in the first series?
In the second set, Lionel Laugier, outsider of the event, won in the end, ahead of Bernard Jeannot (score 1 in the lead).
For the Ladies, the confrontation between the 2 favorites of the vital test of Joanna Schaar, in front of Dominique Caussin (Score 3/1).
The winners received their trophy from Éric Piétri Sports Director of the Domaines de Saint-Endreol at the members' party.
Herlan Pichan, vice-captain of the Senior Team, rewarded the winners of the senior championship in the person of Jocelyne Pichan, Kay Thomas, and Cécile Lechat at the Ladies.
Pichan, Raymond and Alain Siino of the Gentlemen finished first in gross and net standings on series 1 and 2.
The presentation of the Trophies gave rise to a beautiful evening. All subscribers were invited to close this golfing season with Félipe and Bénédicte, to ensure the musical atmosphere. Next appointment with the first competition of 2019, Monday, January 7 with the traditional scramble of the Epiphany.
RESULTS :
GENTLEMEN
Marc BOURGUIGNON vainqueur de Herlan PICHAN (1ère série)
Lionel LAUGIER vainqueur de Bernard JEANNOT (2ème série)
LADIES
Joanna SCHAAR vainqueur de Dominique CAUSSIN
SENIORS LADIES
GROSS GENERAL
Jocelyne PICHAN 30 Pts devant Joanna Schaar 20
NET 1st SERIE :
Kay THOMAS 20 pts devant Joanna Schaar 18
NET 2nd SERIE :
Cécile LECHAT 30 Pts devant Pamela Reilly 17
SENIORS GENTLEMEN :
GROSS GENERAL
Herland PICHAN 24 Pts devant Denis Mouchon 23
NET
1ère SERIE Raymond SIINO 25 Pts devant Denis Mouchon 24
NET
2ème SERIE Alain SIINO 18 Pts devant Christopher Thomas 17