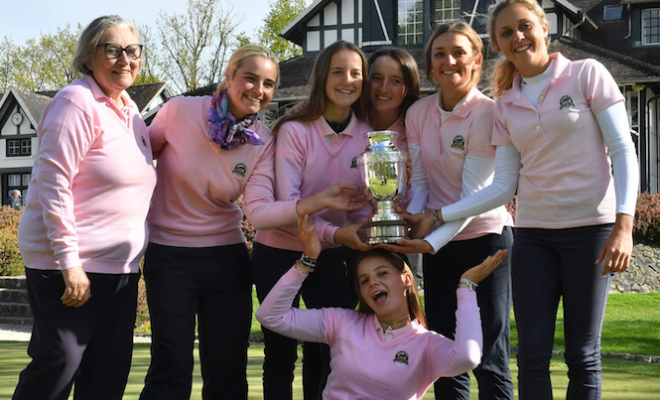 FFG
News
Valescure Amateur France Champion
|
The south to conquer Paris. The Valescure women's team wins the Golfers' and becomes 1st Division Amateur French Champion 2019
Even if Fontainebleau is not Paris, it was still necessary to dare to seek victory in the house of kings and within the imperial heritage. The players of the club fought and in the image of the climbing rocks of Fontainebleau, she climbed one by one the steps that brought them to the top of their art by winning their first Championship of France women: the Golfer's 2019, 124 years after the creation of the club in 1895.
They opened an unthinkable path for this club Valescure who hoped nothing better than to appear in the face of the monsters of the capital and its surrounding area that had dominated for decades on discipline and category!
By finishing 7 ° qualifications, they had apparently reached their grail, being in the last four after seeing the elimination of big cars like RCF La Boulie and Paris Country Club! But Jacqueline, the captain, and her players have maintained their line of conduct, their track record, climbing each turn a march, crossing each time a final landing to end up in the final in front of a big size like Saint Nom La Breteche. The battle to win was going to be tough: Valescure never won and Saint Nom did not win in 17 years!
Tom Thumb, Valescure, had become the Wolf, the heart was there, the envy was overflowing, the ambition without limit and the fear to oblivion. Our Mediterranean team has led the colors of the Tennis and Golf Club Valescure to the end with method, calm and lucidity to emerge victorious from this ultimate match play.
In addition to the victory, the "girls" of Valescure have exacerbated the pride of a club but also a region.
Congratulations to Valescure and congratulations to its management team for maintaining this club spirit.
Writer LJA