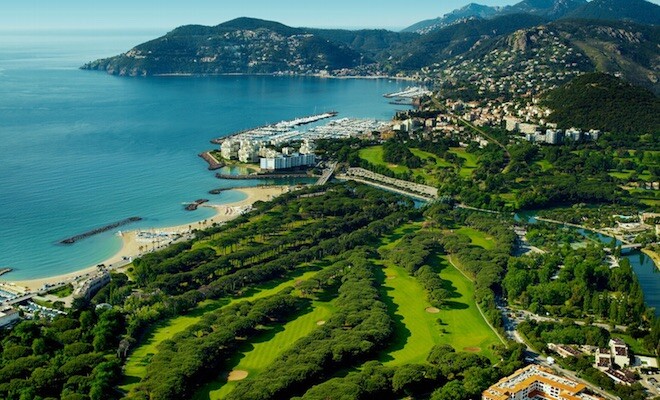 French Riviera
CANNES MANDELIEU OLD COURSE
|
CANNES MANDELIEU OLD COURSE
Country: France
Region: South – French Riviera
Location: French Riviera


City: Mandelieu-la-Napoule – Alpes Maritimes
The Cannes Mandelieu Old Course is made up of two courses: an 18 hole Par 71 of 5,749 meters and a 9 holes Par 33 of 2,118 meters: Both courses offer beautiful fairways, wide and surrounded by centenary pines.
The course is crossed by a river Siagne, a ferry, with at the controls a staff of the club, allows to cross the stream to go from the hole n ° 2 to the hole n ° 3.
Practice:
The Restaurant:
The restaurant of the Old Course offers a warm welcome in a calm and friendly atmosphere. You will be able to have lunch opposite the fairway of the hole n ° 18, on a big terrace shaded by centennial pines.
You will taste the refined specialties of our chef! The restaurant of the "Old Course" welcomes you every day from 11h to 16h for your lunches.
Offers:
Welness:
Wellness treatments at the foot of a majestic century-old umbrella pine tree named The Holy Tree.

The Holy Tree is a place of benevolence where one approaches the well-being in a holistic way by paying homage to the nature through all our care.

You will be immersed in a plant environment at 360 ° C.

The care map is inspired by 3 worlds: Nature, Travel and Sport.


True know-how:
Massage techniques are influenced by Chinese & Ayurvedic medicine.

The natural wellness treatments have been minutely created to perfectly combine the ancestral traditions of the World and the beneficial virtues of aromatherapy.

Every day between 11 Am and 20Pm (except Sunday) by appointment
Contact
:
Laëtitia Duhamel
Phone : +33 6 32 98 51 86
contact@laetitiaduhamel.com
www.laetitiaduhamel.com
CONTACT GOLF & RESTAURANT :
Tél. +33 4 92 97 32 00
Fax +33 4 93 49 92 90
E-Mail: contact@golfoldcourse.fr
Web Site : www.golfoldcourse.com
Address:
265 Route du Golf,
06210 Mandelieu – France